French Polynesia is an archipelago of islands in the South Pacific that were claimed by the French as French Overseas Territory (Territoire de la Polynésie Française as it is called officially in French). Nearly 120 in all, only about 25 islands are inhabited. Faaa International Airport in Tahiti is the largest International airport in French Polynesia. You can fly from Los Angeles Airport in about 8 hours. Typically, the weather is cool around May to October and not too wet. Temperatures range from around 75 - 84 degree F / 24 - 28 degree C - mild for a clutch of islands south of the Equator.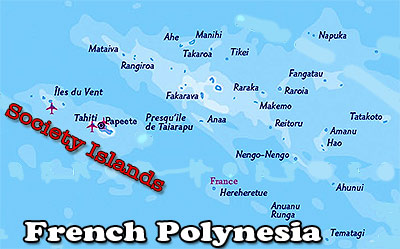 French Polynesian Islands

The Society Islands (Îles de la Société as they are called in French) are the most populated group of islands comprising Moorea, Huahine, Tahaa and Bora Bora. The Marquesas are a set of islands that have unusually steep mountain drops right into the ocean. The Astral Islands boast of slightly cooler weather. Check out kite boarding and whale watching on these islands. The Gambier Islands are the extreme southeast of French Polynesian archipelago and off the usual tourist track. The Tuamotu group of Islands forms a ring around a beautiful lagoon. They are famous for atolls that are ideal for diving.
Traveling to the French Polynesian Islands

But be sure to book your tickets well in time as fares and accommodation are expensive. French Polynesian currency is Cour de Franc Pacifique - CFP which is pegged to the Euro. Diving and surfing are popular beach activities. Beware of tropical depressions during the rainy months though! Surfing enthusiasts can pit their skills against the amazing waves at some of the islands. Whilst on some of the islands, look up a Marae, a Polynesian temple. The months of June and July are ideal for whale watching. Watch humpback whales swim from Antarctica to bear their young.
Typically most visitors island hop by Air Tahiti which offers a mix-and-match island hopper flight service. Typically a ticket allows 5 stops from Tahiti to the more popular islands. Only French citizens do not need a visa to visit French Polynesia. Western European and Scandinavian nationals can stay for about 3 months without a visa. Visitors from Japan, Singapore and New Zealand can stay for a month.
You can either choose a luxurious resort holiday or go the bed-and-breakfast route. Local bungalows are cheaper as also the family-run Polynesian hotels. You can go in for basic tents which vary in size, furnishings and comfort. You might consider air-conditioned resorts as the humidity can be quite oppressive in the summer months. Romantic bungalows set on stilts right over the reef are a perfect getaway. During the 'wet season' between November and April, there are frequent rains and storms. But you are more likely to get affordable accommodation and other seasonal discounts. Often a package trip might get you the best rates on flights, hotels and meals.
Les Roulottes or food wagons offer value-for-money meals at about $20 USD. Tamaaraa or food cooked in banana leaves in pit ovens is popular. Mountain bananas, fresh seafood and plenty of fresh fruits are part of the daily fare. You can get tuna, grouper, bonito and mahi-mahi fish. You can sample chevrettes or river prawns. Deep sea specialties like sea urchin, barracuda and octopus are also easily found. The national dish of Tahiti is poisson cru or red tuna cooked in an aromatic blend of lime and coconut milk. You are likely to sample plenty of coconut, vanilla and banana in a variety of dishes. Breadfruit or uru and taro, a starchy root are used in plenty.
Tahiti

The exquisite islands of Tahiti are spread over more than 2 million square miles. Spread over nearly 118 islands, you can see palm fringed beaches, turquoise blue lagoons, coral reefs and rugged mountain peaks. Some of the most famous island destinations of the French Polynesia are part of the Tahiti - Bora Bora, Rangiroa, Fakarava, Mooorea and Huahine.
Papetee: The most populated and visited island among the Society Islands is Papeet?. It has high volcanic islands and crystal clear lagoons. It is the government capital and houses the French Polynesian public and private governmental, commercial and financial services. The capital boasts of chic bistros and high-end shopping shopping centers.
Papeete boasts of a vibrant nightlife and interesting shopping options. You can pick up native wood carvings, Tahiti pearls and artwork. There are hundreds of stands selling vanilla, fruits and other local produce. You can walk down Le Marche, the 155 year old public market. You can try out the colorful roulettes or food wagons for island cuisine and desserts.
A drive down the coastline is a pleasant experience, for the area abounds with picturesque beaches, colorful churches and dramatic coastline scenery. For those interested in Polynesian history, check out the museums. You can visit the world's only museum concentrating on pearls, the history, mythology and art surrounding them. Other areas of tourist interest include:
Maraa Fern Grotto


Vaipahi Gardens


Notre Dame Cathedral of Papeete : The French carried their culture and religion to their colonies. You can see this reflecting everywhere here. The magnificent Notre Dame (Virgin Mary) Cathedral of Paris built in the year 1163 AD is symbolic of the culture of France. 'It is more than just a museum and serves, as it has from the beginning, as the House of God and the Home of Men - its influence always remaining current.' The Cathedral dedicated to the Virgin Mary, Notre Dame in Papeete, completed in 1875 AD, carries the essence albeit in a less spectacular way.


Mt. Aorai


Papeete Town Hall

Island Hopping

Take a sneak peek into the best islands of the French Polynesia to visit:
Tahaaa: Tahaaa boasts of premier hotels with over-water bungalows over the lagoon. Black pearls and vanilla are exported from here. It is a more recent tourist destination.

Rangiroa: This is one of the largest atolls in the world. This island boasts of some of the best diving sites offering a look at hammerhead sharks, dolphins, green turtles and eagle rays. Here you can pick the best of the French Polynesian wines.

Fatu Hiva: Visit Fatu Hiva for experiencing the tropical wilderness. This island holds pride of place for introducing the tattoo art form. It is part of the Marquesas Islands, northeast of Tahiti. Here there are no protective coral reefs.
Moorea: The natural beauty of this island rivals that of Bora Bora. Unique to Moorea are the fingerlike bays and mountain peaks. The beaches here are the white sand variety unlike Tahiti where the sands are of the black volcanic type. With plenty of fields and meadows, it is a picturesque place. Travel across from Tahiti in 30 minutes by catamaran.

Rurutu: Rurutu is called the Island of Whales, as it attracts many humpback whales in the mating season of July-August. Enjoy the coral snorkeling experience here.

Bora Bora: The vivid blues and emerald greens are the first glimpse you will have of Bora Bora as you land there. With lush green sloes and valleys bursting with flowers, the lagoon is a picturesque sight! Take a 4X4 guided trip to check out the local panoramic views.
Top of the Page: Travel to French Polynesian Islands
Tags:
#travel to French Polynesia
#touring French Polynesian Islands