The tone of a room is set by the furniture that is placed there. A basic understanding of furniture arrangement lends an ambience to your living space, making it both pleasing and functional at once. While there are several things that one must consider while arranging furniture, the primary things one must consider:
Focal point


Availability of space


Traffic pattern in and out of the room

Focal point of room decor

Ideally furniture must be oriented around a focal point in the room. While in some rooms that focal point may be as obvious as the fire place, or an architecturally designed bow window, sometimes the focal point is not immediately obvious.

Now, how does one locate a focal point – this is the point of visual interest, which is a dramatic and distinctive feature of the room. It could be an entertainment center for instance. Or a work of art hung over a console table or a dramatic photo collection mounted in a geometric pattern on a wall. If there is no such focal point in a room, let us then create one. This should be the first thing that your eyes sight on while walking into the room. Only then the furniture can be fitted around this point – for instance in the bedroom it may be the bed, in a living room the conversation area and in the family room the entertainment center.
The next step is to place the largest piece of furniture first in the focal point. In the living room, it would be the sofa; in the bedroom, the bed; in the dining room, your dining table would be first and in the family room, the entertainment center. Similarly, in the kitchen, the eating area would hold the top priority.

The largest furniture should be placed in relation to the focal point, for instance, the fire place in the drawing room. While furniture need not necessarily be arranged facing it, it could be done around it to underscore its importance. Again, putting large pieces of furniture clustered together would only upset the balance of the room. Once the big pieces are placed, the smaller ones can be moved in relation to the bigger one. The obvious arrangement pattern would be the chairs that go with the respective tables, in the kitchen or dining rooms and then the conversational areas of the drawing room.
Availability of space

It is best to look at the entrances to the room, while determining availability of space for placement of furniture. Do the doors at the entrance open in or out? If they open in, there should be space left enough to open the door fully.

The next would be to determine if the room is a pathway to another room or is it a destination room? If it allows people to go through, then furniture has to be placed in a manner such that it is easily navigable pathway from one room to another.

In terms of space, do you want the room to be cozy and intimate or open and spacious? Furniture in a cozy room tends to be placed in closer groups. An open feel needs more space between pieces. If the room is for entertaining, then the furniture choices need to be flexible.

Nooks and crannies could be taken advantage of during furniture arrangement. For example, odd shaped corners and windows and under stair spaces can be well used for furniture arrangement.
Furniture spacing guidelines

Interior designers normally allow about 48 to 100 inches between sofa and side chairs. This can be adjusted according to the needs of the family. If you are comfortable with the chairs close to each other, this can be so. The normal placement for a coffee table in front of the sofa is 14 to 18 inches from the sofa. But finally comfort is what matters in these placements. The normal guideline for television watching is 3 times the size of the screen.

Typically an adult needs a depth of 20 inches for a dining room chair on an average, and another 16 inches to scoot back the chair from the table. To serve guests comfortably, allow 46 inches between the wall and the dining table.
In the bedroom, an ideal bed placement would be to allow at least 24 inches between the bed and the wall to get out of bed. And a 36 inches between the end of the bed and the bedroom or bathroom door.

These space guidelines are approximate and tend to differ from one family to another. Ease of movement and comfort of use, is the priority to be kept in mind while determining furniture space.
Get done the dimension of the room by a tape measure. Unless the size of the room is determined, arranging furniture to suit space cannot be done. Perhaps the easiest way is to measure your foot and then walk heel to toe across the room. This can help determine the basic size of the room. Dimensions of the hallway, stairs, and door widths can all be determined in a similar fashion. The entrance and egress of the room should be large enough for potential huge purchases as well.
Various sized furnishings may be mixed. To add visual interest to any space, it would be good to incorporate objects of different characteristics, height, depth and width. A serene and unchallenged area for rest or recovery should have harmoniously shaped and sized furniture. Otherwise, extra large and small armchairs and side tables can be combines to create energetic space with various volumes.
Create balance Scaled pieces are more serene when put together but a nice balance of pieces creates a harmonious atmosphere. Different physical qualities of height, depth and width can be used throughout the room.
Healthy relationship of items It is good to form a healthy relationship of items to one another so that a pleasing balance is formed. There are two kinds of balance, symmetrical and asymmetrical. While symmetry is visually pleasing, asymmetrical pattern can add visual motion and excitement to the arrangement.
An artist's eye Look at your space as a painter would to a work of art. Just like painters use some visual tricks to create an appearance of depth in a space, so too, in interior design, triangulation is the placement of two end tables on either side of a sofa with a painting above the sofa.
Create a sense of depth Just like painters who use depth in their creation, similarly, stand at the threshold of the room and place a chair, perhaps at an angle in the foreground closest to you. If the cocktail table provides a mid ground, the sofa with the wall can serve as a background. A vanishing point would be the window in the scene or the work of art placed above the sofa.

Consider the size of the room when purchasing furniture so that the furniture scales up to the room size. Functional arrangement can get better this way.

Avoid lining up the walls of the room with furniture, unless there is no choice because of space limitations. In larger rooms sometimes it happens that making conversation is difficult when the room has too much empty space. Instead a more functional attempt can be made with conversational areas grouping furniture in 'L' or 'U' shapes around the focal points. Angling furniture items can create more visual interest than having everything parallel to walls.

Experiment furniture layout with the help of a room planner online or use paper mapping to try out the various permutations and combinations. This can help create a perception of how things will fit within the space before physically attempting it.
Furniture arrangement in living rooms

This room sees family get together and activities. Comfort, harmony and elegance need to go hand in hand to get the choice fitment of furniture. Careful planning and proper arrangement with creativity, imagination and personal touch can create a lively living room.
Is there is enough space to put down cups, drinks or plates if you eat or entertain in the living room?


Are there enough tables to place lamps for convenient lighting?


Are there enough seats to entertain and are there chairs close enough in the conversation area?

It would be best to stay away from the cluttered look. Overloading the living room with furniture will only create a claustrophobic cluttered look and destroy the beauty of the pieces as well as hinder moving space. The space in the living room has to be considered before arrangement. A long or big living room will have better furniture arrangement if the space is divided. Use of space is a big challenge while decorating a room.
Furniture in bedrooms

The bedroom has to breathe with space. As the headboard tends to be the main focal point of a bedroom, the bed should be placed opposite the entry door. Thus eyes are drawn to the headboard on entering the room. It is preferable not to place the bed under a window but can be placed between two windows. Pastel shades are preferable. Low bed makes the room appear spacious.

In case of small bedrooms, it is better to use beds made of thin metal frames. This can help provide more visual wall space and create a feeling of spaciousness in the room. Bulky beds can take up more floor space and reveal less wall area. This lends a cramped look. These days there are space saving furniture for bedrooms like foldable beds that can fold away into the wall. Futon beds appear like sofas during the day and can double up as a bed whenever required. For a kids' bedroom, bunk beds can be a good option.
Top of the Page: Furniture Arrangement
More on Home Decor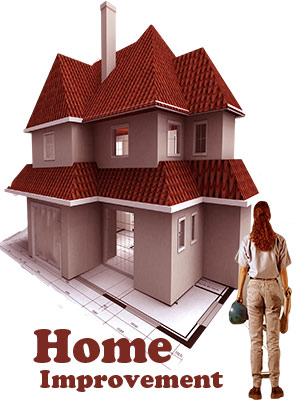 Home and Garden
- Tips and tricks to create your dream house ...
Apartment Decor
- Generate positive energy...
Color Decorating Schemes
- Color your life ...
Loft Decor
- Freeflowing space ...
Decorating Small Space
- Small is beautiful and practical...
Floor Decor
- Endorse your room ambience ...
Halloween Decoration
- Creepy candles and spooky centerpieces ...
Driftwood Home Accents
- Weathered by water ...
Wood Paneling
- Rich elegance and warm glow ...
Artificial Christmas Tree
- Two-toned green branches, blinking lights, silk poinsettias ...
Christmas Ornament
- Angels, gingerbread, snowflakes and garlands ...
Steel entry door
- Secure your doors ...
Home Improvement Catalog
- Look up home improvement catalog for remodeling and improvement designs ...
Interior Decorating Idea
- Keep it cool ...
Sunroom Designs
- Drenched in sunlight ...
Master Bedroom Ideas
- Heart of any hearth ...
Kid Room Décor
- The child's sanctuary - where he plays, reads, listens to music ...
Country Home Décor
- Bring the warmth of the country into your home ...
Lodge Décor
- Wilderness of American outdoors ...
Beach House Decorating
- Add a touch of romance ...
Laundry Room Decor
- Making it functional ...
Moroccan Decor
- Medley of vibrant colors ...
Japanese Décor
- Less is more ...
Living Room Makeover
- Spruce up your space ...
Nautical Home Décor
- Ahoy! Set your house a sailing ...
Home Improvement Tips
- Give your home a new look! ...
Do it yourself Home Improvement
- Roll up your sleeves and tackle a DIY home job ...
Kitchen Remodeling Idea
- Kitchen remodeling to improve efficiency and aesthetics ...
Home Improvement Contractor
- Get a reliable home improvement contractor ...
Home Garden Design
- Find out various garden layout options ...
Lower Energy Bills
- How to use energy efficient appliances and designs to lower fuel bills ...
Laminate flooring
- Informative guide on laminate flooring ...
Thanksgiving Decoration
- Create the atmosphere ...
Furnitures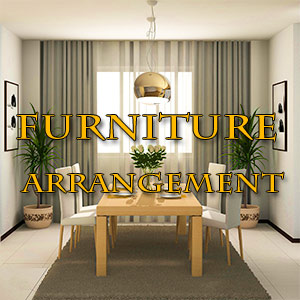 Home Furnishing Idea
- Play around with fabric, color and texture in your home ...
Sectional Sofas
- Stretch or relax ...
Leather Sofa
- Enveloped in luxury ...
Furniture Arrangement
- Challenging use of space ...
Hammock
- Furniture to laze around ...
Armoire
- Elegant storage option ...
Dresser
- Storage as well as ornamental ...
Home Bar
- Entertain at home ...
Door Knocker
- Décor at your doorstep ...
Footstool
- Rest the aching feet ...
Wood Bookcase
- Indulge your reading habit ...
Rice Paper Blinds
- Simplicity personified ...
Table Decoration
- Dress up your table ...
Christmas Centerpiece
- Frosted cones, crimson berries and fragrant pine ...
Rattan Furniture
- Light, airy furnitures ...
Top of the Page: Furniture Arrangement