A brassiere, commonly referred to as a bra, is used to cover, support and elevate the breasts. As the most widely accepted form of women's clothing, bra has successfully replaced the corset of yore.
Bras serve a variety of purposes including improving the shape of the breasts, preserving modesty and enhancing and elevating their cleavage. Bras are not just practical but also attractive. While there are bras that facilitate nursing, exercise or to enlarge the perceived breast size, bras also lift sagging breasts and restrain them from movement.
Bra sizing

Studies reveal that nearly 95% of women seem to wear the wrong sized bra. Either the band size is too big or the cup size is too small. The average bra size is quoted as 36 C but most women who wear this size should be wearing either a 34 D or 34 DD or 32 DD or 32 E bra size. Cup sizes should be in proportion to the band size and so a D cup is not the same size in every bra.
A poorly fitted bra can cause back problems, muscle tension and even headaches at times. Lifelong posture problems can be caused by improperly fit bras. A correctly fitted bra size is determined by accurately calculating chest size and breast size - band size and cup size. The band size is adjustable, with three or four alternate sets of fastening hooks.
Bra sizes also vary depending on the material used, manufacturer and other considerations. International manufacturers of bras do not agree on a single standard bra size. For instance, the British bra brands range in cup size from A to K, while Americans find bra cup sizes ranging from A to G and some brands go as high as L.
Tips on buying the right sized bra
For finding the correct size of bra cup, first measure the length around the rib cage under the breasts. Then measure around the fullest part of the bosom at the level of nipple. The difference between the two should give the cup size. The cup size is the letter part, for instance, in size 34 B, 34 denote the band size and B denotes cup size.


For obtaining band size, body circumference either under or above the breasts should be measured and then add a specified amount to account as the rib cage is generally wider at the height of the breasts than at the point at which one measures.


The bra should fit snugly around and not dig into the breasts. Two fingers should be able to fit under the band comfortably. If the cup fabric is wrinkled, then the bra is too big.


There should be no extra space in the cup. The breasts should completely fill the cup and if there is space, the cup size should be reduced.


Since the breasts are supported by pectoral muscles of the chest, support from the bra should come from beneath. In order to check whether right support is available, slip the straps and check whether it stays in place without them.


The back piece and sides of the bra should be in level with the front.


During exercise, running, jogging and pregnancy, it is recommended to wear good supporting bra.


Padded bras can help enhance the size of small breasts.


Flat well padded under cup wiring with wide elasticized straps should be ideal for those with heavy breast.

Underwire bra

The underwire bra is designed to provide additional lift to her breasts. The wire built into the underside of the cup in an underwire bra, lifts, separates, shapes and provides additional support to the breasts. The underwire that is used is often a thin, semi circular strip of rigid material, plastic or metal. Underwire bras come in a gamut of designs such as shelf bras, demi bras or nursing bras. There are women who find under wire bras quite uncomfortable whereas some swear by their underwire.
Underwire bras, similar to other bra types, come in a range of colors. It could be bright red, black or even bright yellow lacy bra which is all fun to wear. Underwired bras come in various styles and designs and can look either plain or elegantly seductive. Under wired bras can be very sexy and elegant in their design and fit. They are more suitable for older teenagers and women as they would need support while in younger girls these wired bras can cause the breasts to look deformed or misshapen.
There are quite a few health conditions associated with the use of underwire bra such as breast pain, infection in the breast during lactation and allergic reactions to the metal underwire. Some even link breast cancer to using an underwire bra but this fact is not supported by scientific research.
Strapless bra

The new revolutionary strapless bra claims to fit the cups in perfect shape and remain so however hard one jumps up and down. Strapless bras are best breast enhancers. The cups of the bras are fully self adhesive with skin friendly lab tested adhesive and totally free of straps. The special reusable adhesive backing plus front closure clasps in a strapless bra provides freedom and comfort from the absence of straps, back clasps and side extensions.
Strapless bras also enable creation of different degrees of cleavage by positioning the bra cups closer or farther away. Strapless padded bras come with removable bra straps and supportive shaping. These can be worn under T shirts and delicate tops conveniently. Strapless padded bras come with silicon beading to prevent slippage.
Seamless bra

Stretch foam cup pads for a smooth look under clothing and a deep v cut to accommodate plunging necklines can be possible with seamless bras. A seamless bra should be ideal as a T shirt bra or for a tissue thin dress. Clothing fits over this bra as if over skin.
Seamless bras come with unlined, unpadded and unmolded cups. Seamless bras are far lighter in weight and an ideal choice for every athlete. They are great for any kind of workout as well.
Push up bra
The push up bra has replaced the traditional padded bras. As its very name indicates, push up bras lift the breasts and add shape and contour to them with extra padding. Push up bras these days use silicon inserts or water sacks mimicking the fullness of natural breasts. These bras are more expensive than the standard padded bra with an improved look and style.
The push up bra essentially works by pushing up and out of the breasts combined with padded inserts placed in the lower portion of the cup. A fuller and more visually enhanced size is rendered to the breasts. Interestingly, in a recent poll, push up bra received almost 20% of the votes to occupy the number one position for the best fashion invention ever.
Padded bra

Padded bras can be worn under any type of clothing as they come in flattering styles. Contour bras which are also a type of padded bra are available with thin layer of padding to prevent nipple show through and with molded cups.
Padded bras are so designed to give a natural and comfortable boost to the breasts. Under wire and no wire construction padded bras are available. Padded bras also come with removable straps and can convert to strapless. Seamless molder cups, special heat activated memory foam and light padded gel pads for optimal cleavage enhancements are available. Hidden bump padding to enhance curves is another unique feature of padded bras.
Touchable fabrics like fine micro fiber and embroidered floral jacquard add feminine allure to these padded wonders. Elegantly trimmed bras with embroidered accents offer flattering lines with beautiful silhouette.
Nursing bra

A nursing bra is a maternity bra engineered to provide additional support for her milk filled breasts. The bra allows comfortable breastfeeding without the need to take the shirt off. Nursing bras come in different designs, including soft cup and underwire designs, Nursing bras come full figured with plus bra sizing.
For nursing convenience, many nursing bras are made detachable so that the material that covers the breast can be detached without having to undo the bra. Nursing flaps help discreet nursing and can also be adjusted to accommodate the changing cup size.
Invisible bra

Made of silicon, the Japanese invention called invisible bra is a special kind of bra that can be used by women of all bust sizes. The bra has two cups connected to each other by a fastener which is transparent. Special lab tested glued substance in the bra makes it stick to the skin.
Wearing an invisible bra is quite simple. The cups have to be put on covering the breasts and pressed lightly so that they stick to the skin. When the lock of the fastener is clasped, the cups are joined with each other and the bra is in place. You can wear it with any backless gown or a strapless dress with equal ease as this bra does not show.
Backless bra

A backless bra without the tyranny of the encircling bra strap is ideal to wear with backless dress or blouse. Of course, backless bra reveals a lot of skin but it is quite suitable to be worn with a dress with a very low cut back as the straps only go slightly around the shoulders leaving the back completely exposed. Ensure that the bra cups are sewn into the dress by a professional to enable good fit. Special reusable silicone bra cups with adhesive backing and a front closure give freedom and comfort.
Top of the Page: Underwire Bra
Formal Dress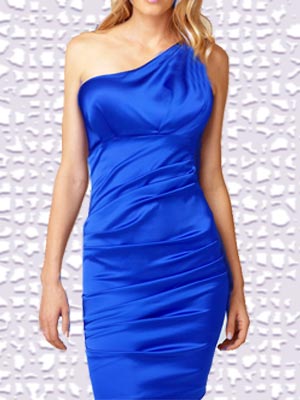 Shopping Guide
- Pick up your shopping bag and join along ...
How to Dress Slimmer
- Appear slimmer and sleeker ...
Petite Dresses
- Create an illusion of length ...
Lace Sheath Dress
- Feminine, fashionable and flattering ...
Dressy Tops for Women
- Casual and chic ...
Pea Coats for Women
- Winter outerwear ...
Church Suits
- Adhering to the dress code
Cocktail Dress
- Suitable for a formal occasion ...
Little Black Dress
- Timeless elegance ...
Prom Dress
- Look your best ...
Semi Formal Dress
- Wide appeal and comfortable ...
Women's Skirt
- Hemlines rise and drop, pleats come and go ...
Women's Fashion - Women's Apparel
- Clothes, bags, belts and more ...
Fashion Apparel for Women
- Dont be a blind follower of fashion ...
Tummy Tuck Jeans
- Unique criss-cross panel ...
Women Designer Jeans
- Comfortable yet alluring ...
Tank Tops
- Top with one in a party ...
Cashmere Sweater
- Soft and expensive ...
Mohair Sweater
- Luxurious natural fibers ...
Winter Wedding Dress
- Snowflakes, glowing hearths, rich wedding gowns ...
Summer Wedding Dress
- Short hemlines, bare backs ...
Winter Boots
- Keep your feet warm ...
Winter Coat
- Warm, snug and comfortable ...
Dress for Bride's Mother
- Momentous day, special dress ...
Baby Christening Gown
- Tender and poignant moment ...
Silk Scarf
- Wrap around in style ...
Pashmina Scarves
- Elegance personified ...
Halter Dresses
- Timeless elegant classic ...
Women Undergarments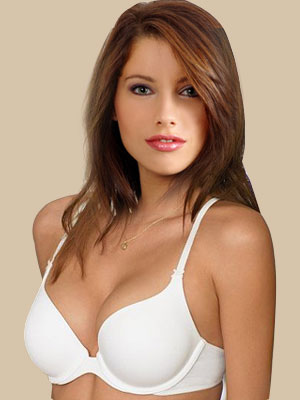 Sheer Camisole
- Innerwear or outerwear ...
Underwire Bra
- Choosing the right size ...
Body Shapers for Women
- Instant figure enhancer ...
Women's Undergarments
- An inside need ...
Sheer Lingerie
- Sensual and alluring ...
Women Sleepwear
- Comfort is of the essence ...
Women Casual Wear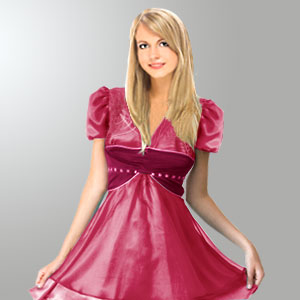 Travelling Clothes for Women
- Versatility and comfort ...
Fall Wedding Colors
- Rich and warm color palette ...
Fall Fashion Trend
- Trend for Fall ...
Jogging Clothes
- Zippered top, loose cuffed trousers ...
Leggings
- Flexible and versatile ...
Tights
- Cool and casual ...
Parka
- Keeping out the cold ...
Corset
- For an hour-glass figure ...
Summer Clothes
- Keep cool yet chic ...
Summer Dress
- Simple, feminine, flowing ...
Summer Long Dress
- Cool and Comfortable ...
Sundresses
- Geared for summer ...
Vintage Evening Dress
- Designs of a bygone era ...
Wedding Veil
- Aura of mystery, touch of formality ...
Beach Wedding Dress
- Glamour on the beach ...
Women's Hosiery
- Sheer silk, lycra or opaque ...
Nylon Stockings
- Allure of nylon stockings ...
Maternity Apparel
- Be a fashionable mum to be ...
Maternity Jeans
- For the mama-to-be ...
Athletic Apparel
- How to choose the right athletic gear? ...
Leather Apparel for Women
- Learn to care for your leather ...
Indian Saree Shopping
- Trace the saree styles from all over India ...
How to wear a Saree
- Pleats and pallus ...
Halloween Costume
- Trick or Treat ...
Womens Tunic Dress
- Simple pullover garment ...
Sequin Dresses
- Sequins are in again ...
Wrap Dress
- Wrap yourself in style ...
Charmeuse Dress
- Soft and delicate feel ...
Ruffle Dress
- Light and breezy ...
Top of the Page: Underwire Bra