4x4 (four by four) or 4WD (4 wheel drive) or AWD(all wheel drive) vehicles, popularized during the WWII, dominate the automotive scene in the US and Australia. In the US, SUVs and 4x4 vehicles are classified as light trucks under the Corporate Average Fuel Economy - CAFE regulations. However, the Environmental Protection Agency has determined that from the year 2009, emission standards will be applied equally across all passenger cars and light trucks.
Their large foot print necessitated for off-road traction and their higher stance induce a sense of security to their buyers. Popular 4x4 cars or SUV's include the very capable Hummer, marquee Land Rover, Jeep Wagoneer, Jeep Wrangler, Toyota 4-Runner, Toyota Land Cruiser, Ford F-150,Chevrolet Silverado, GMC Jimmy, Ford Explorer, BMW X3, BMW X5, BMW X6, Mercedes M Class, Range Rover etc.
The large size of the vehicle demands a special insurance
for 4x4 cars; this insurance being different from other car insurance policies. Their specialized transmissions, their off-road capabilities and their increased cost of ownership combine to have an increased rate of insurance premia. In addition, this type of vehicle also tends to have many specialized accessories - air lockers, camping gear, emergency towing equipment, fog lights, roof racks and snorkels.
Differences among regular and off-road 4x4s include:
Not all 4x4s can be driven on rough and dirty roads; special systems alone can cater to this need. Few 4x4s are designed for smooth roads and are built smaller when compared to the off-road vehicles.


Off road 4x4 cars offer the driver extra traction while driving on rough terrain.


Off-road 4x4 cars have a top of the line suspension system.


Off road 4x4s can be driven on mountainous terrain and can be driven through water bodies like rivers and lakes if they have been designed for such harsh conditions. They have extra reinforced steel engine guards and their air intake is located at a higher level. They can also be driven on deep snow, mud and sand and these vehicles are designed to withstand extreme weather condition.

Insurance for 4X4 vehicles include pick ups and various other services depending on the type of coverage you choose. Various companies offer flexible policies and insurance coverage that are tailor-made to suit individual requirements.
Off the road


Four wheel drive


SUV

4x4 car insurance guide
Soaring popularity for 4x4 cars during the past 20 years reflects consumer preference. Spacious interiors, size, reasonable purchase cost are among the features that have made SUVs popular. Though many people do not use their 4x4 cars off the road, they still need to pay higher premiums for these cars as these cars cannot be completely covered under the normal car insurance. People who wish to use their 4x4 cars off the road should get insurance quotes from specialist brokers, aggregators, or should settle in for modified car insurance polices that are offered by manufactures. The premium payable for the 4x4 car is determined by factors such as:
Policy holder's age


Policy holders driving experience


No claims bonus


Usage of vehicle


Alterations made


Place of living


Car security and type of 4x4 car insurance applied for

4x4 insurance covers a large part of running costs thus ensure that you get an insurance policy that will suit your requirement and budget. Don't forget the 4X4 vehicles have costlier repairs and higher fuel consumption.
Types of 4x4 car insurance policy

Comprehensive insurance: This is the upper limit or high-end 4x4 insurance. It covers fire, theft, personal accident benefits, damage or loss of personal effects up to the insured value of the vehicle. Comprehensive 4x4 insurance also covers the policy holder and spouse against death or injury (if spouse traveled along with policy holder at the time of accident). This insurance is expensive as it covers more number of risks; cheap covers are not available under this type of insurance.
Third party: Any person owning a SUV or a 4x4 car should own at least this insurance. If the policy holder is partly or wholly responsible for the accident, then the insurance company will pay for the damaged vehicle and will also cover the person's injury. This insurance is very cheap but the only disadvantage of this insurance is that it will not cover any damage to the policy owner's vehicle.
Third party fire and theft: This insurance provides cover mentioned in the third party insurance and offers additional cover against theft and fire for the policy holder's vehicle. This policy extends cover on payment of additional premium.
Off-road use: Not many policies cover off-the-road usage. Check with the insurance provider before purchasing the policy. This insurance policy is not very cheap.
Best 4x4 car insurance deals

With many players in the foray, it is advisable to procure as many quotes as possible. Quotes for 4X4 insurance are available both online and at the insurance company itself. To obtain an online 4x4 car insurance quote, the applicant should provide details as required by the respective companies and submit the same. The applicant will receive a quote within few hours of enquiry.
Cheap 4x4 car insurance

If you want to procure cheap premium for your 4x4 car, you should satisfy any of the following criteria:
Car insurance can be applied in the woman's name as women are considered safer drivers when compared to men.


Elderly people applying for insurance can get cheap premiums as they are considered safer drivers when compared to youngsters.


Low engine capacity vehicles are charged lower premiums.


Number of safety features in the car decides the premium of the car, more safety features amounts to lower/cheaper premium.


If the driving license of the applicant classifies the applicant as a safe driver (with minimal or nil accidents so far), the insurance premium charged will be low.


People staying in safe localities can enjoy low premiums as the risk of theft is minimized in such areas.


Difference between 4X4 insurance and general auto insurance

A 4X4 can be covered under the usual auto insurance policy; but an exclusive 4X4 insurance policy will provide cover for:
extra accessories fitted in the vehicle


on-road and off-road usage of the vehicle

Standard auto insurance does not cover taking the 4X4 off the road. With the perils of traversing different terrain, insurance for SUVs must be taken with specialist insurers. Joining a 4X4 driver club may help you seek lower insurance premiums. You can probably minimize your 4X4 insurance by taking an advanced driving course that is specifically geared towards driving in difficult terrain and all weather.
Useful 4x4 car insurance policy terms

Limited mileage: If the 4x4 is sparsely driven, some insurance companies cover the vehicle under a cheaper premium. They sign an agreement on the permissible maximum annual mileage. If the mileage exceeds the aforesaid limit, the insurance company will not pay any claim.
Agreed value: If a person fits in additional accessories and does major modifications to the 4x4, he/she might wish to insure the vehicle for its total value. Several insurance companies agree on a particular value but strike a deal of low premium.
Voluntary excess: Paying a part amount of the claim that is fixed by the insurance company can make the insurance premium much cheaper.
Direct insurer: The insurance policy can be purchased directly from the insurance company. Different companies offer different insurance deals.
Green card: Minimum legal insurance cover is offered for the 4x4 while it is driven abroad.
No-claims bonus: A discount is granted on the insurance premium if no insurance claim (due to damages) is made by the owner.
Salvage retention: In the event of heavy damage to the 4x4, it might be abandoned by the insurance company. Few companies allow the owner to buy back the wreckage, in a few cases if the 4x4 is completely damaged, the insurance company should destroy the damaged vehicle as per law.
Top of the Page: 4X4 Car Insurance
More on Insurance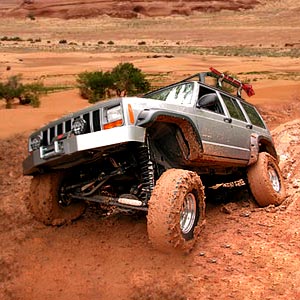 Affordable Health Insurance
- Increasing healthcare costs ...
Medical Malpractice
- Act of medical negligence ...
Critical Illness Cover
- Critical illness or injury ...
Decreasing Term Insurance
- Protects your mortgage ...
Short term medical insurance
- Short gap insurance options ...
Whole Life Insurance Policy
- Insuring your future ...
Dental Insurance Plan
- Keeping the smile intact ...
Household Insurance Quote
- Contents of your home ...
Homeowner Insurance
- All you need to know about insuring your home ...
Travel Insurance
Travel Insurance
- Be armed with adequate cover while ...
Travel Insurance for Pregnant Women
- Financial backup in case of trouble ...
Backpacker Travel Insurance
- Provide for adventure buffs ...
Travel Accident Insurance
- Uncertainty during travel ...
Flight Accident Insurance
- Single or multi-trip insurance ...
Aircraft Liability Insurance
- Covering the airplane ...
Holiday Travel Insurance
- Holiday sans worry ...
Snowboarding Insurance
- Covering the risk factor in the game ...
Ski Insurance
- Dangerous yet exhilarating ...
Ocean Marine Insurance
- To cover the associated risks ...
Automobile Insurance
AAA Auto Insurance
- lowdown on different facets of AAA car insurance ...
Automobile Insurance
- Protect your interests with the right kind of insurance ...
Transit Van Insurance
- Insure your transit vehicle ...
Car Insurance for Women
- Vehicle protection for women ...
Money Saver Car Insurance
- Affordable money-saver insurance ...
4X4 Car Insurance
- For off-the-road ...
General Insurance
Renters Insurance
- Insure and secure ...
Occupational Accident Insurance
- Prepare for unforeseen happenings and its consequences ...
Liability Insurance Rate
- Protect against possible lawsuits and claims ...
Makeup Artist Insurance
- Protecting your professional interests ...
Online Insurance Quote Guide
- Understand Insurance and how it can benefit you ...
Disability Insurance Quote
- Secure your financial future ...
Identity Theft Insurance
- Fast growing insurance product ...
Pet Insurance Comparison
- Fancy treatments, soaring vet bills ...
Laptop Insurance
- Protecting laptop against contingencies ...
Top of the Page: 4X4 Car Insurance