Gifts received during the bridal shower help many a couple who are setting up home. If you have been looking for bridal shower gift idea, look no further! Look up tips on selecting bridal shower gifts for a special friend or colleague.
Bridal shower gift

The tradition of bridal showers dates back to late 19th century when a poor couple married against their parents' wishes and had no support to set up house. Friends of the coupled helped them with gifts. Today contemporary bridal showers are organized by friends, family or colleagues of the bride and are a wonderful opportunity to have a good time and get to know one another. This is also the occasion to gift the bride. Some ideas for bridal shower gifts:
Monogrammed bags


Cosmetic bags


Personalized jewelry cases and perfume


Photo albums


Leather travel jewelry box


Desk accessories


Special Occasion Jewelry


Bridal Accessories


Coasters


Decorations


Bridal lingerie


Glassware


Unique keepsakes


Napkins


Bar Accessories like ice bucket, shaker and wine coaster


Soft bath towels


Pillows and Baskets


Scented candles


Kitchen appliances like Kitchenaid mixer, French Coffee Maker, Slow Cooker, Crockpot, Waffle Iron


Salad boats


Personalized stationery, envelopes


House plants


Herbal Bath Grains


Body Massage oil

Typically a bridal shower is hosted by the bride's maid of honor or close friends. It is held about a month or so before the wedding. Sometimes, a couple shower is held where you can gift them something from the registry. You could personalize the bridal shower gift with a heartfelt note or love poem. Typically gift ideas for bridal showers hinge on household accessories and personalized items for the bride. When coming up with a suitable idea for a bridal shower gift, keep in mind the recipient. If the couple do not need household items, why not pamper the bride with cosmetics, spa treatments or personalized gifts. Avoid gifting something risque or inappropriate with family members around.

Another option is to gift something really big and expensive. It is best to group up as friends or office mates and collect enough to buy something that the couple would really want.
Selecting Bridal shower gifts

How about fixing together gift hampers that might interest the couple? You can also put together some personal care items for the bride to pamper herself. Fill a cosmetic bag with manicure items such as nail file, emery board; nail brush, cuticle remover, nail clippers and nail polish remover. Add a couple of nail polish bottles and you have a wonderful bridal shower gift ready.

Another bridal shower gift idea for a bride with lovely tresses is a hamper with hair brushes, combs, barrettes, clips, pins and book on various hairstyles. A makeup kit is a popular bridal shower gift. An assortment of lipsticks, nail polish, eyeliner, mascara and blusher and facial cleanser.

For a cookery aficionado, a bridal shower gift hamper of exotic black mushrooms, seasonings and sauces will be welcome. If your friend the bride is a connoisseur of chocolates, why not buy some chocolate dips, sauces and syrups. You can choose a bag of chocolate bonbons and cookies. A wine basket with a couple of good brands of wine, wine flutes to toast and some crackers and cheese to go with the wine can be a good honeymoon gift. An aromatic basket of fiery spices like salsa, Jalapeno peppers and paprika along with herbs like thyme, rosemary, basil and oregano can be gifted to a bride who loves pottering in the kitchen.
Top of the Page: Bridal Shower Gift
More on Gifts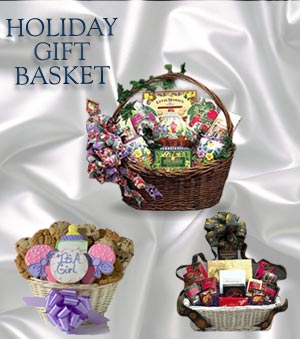 Gift Wrapping
- Wrap it right ...
Goody Bag Ideas
- Carry back happy memories ...
Golf gift Idea
- For a golfing enthusiast ...
Unusual Gift
- Convey your feelings ...
Spa Gift Baskets for Women
- Gift some pampering ...
Potpourri Gift
- Spread the fragrance ...
Cheap Christmas Gift
- It's the thought that counts ...
Porcelain Doll
- Delicate and lifelike ...
Printable Gift Certificate
- No more shopping woes ...
Holiday Gift Basket
- Chocolate drizzled popcorn, honey glazed peanuts ...
Homemade Christmas Gift
- Caramel nut cakes, personalized Christmas stockings ...
Corporate Christmas Gift Idea
- Ideas for the Gift in the Corporate World ...
Christmas Gift Gadget
- Gift Ideas for the Special Occasion ...
Personalized Christmas Card
- Spread joy and cheer ...
Baptism Gift
- Rattles and spoons, rosaries and crosses ...
Mother Day Gift
- Getting a gift to tell your mom how much she means to you ...
Unique Bridesmaid Gift
- Show her your appreciation and warm feelings ...
Bridal Shower Gift
- Gift the bride ...
College Graduation Gift
- Hopes, anticipations and rejoicing ...
Wedding Anniversary Gift
It's the feeling that counts ...
Animal Lover Gift
- Wonderful collectibles like unique horse and wildlife products ...
Top of the Page: Bridal Shower Gift