Payday loans are short-term loans against your next paycheck. The interest rate on them is usually quite high. Payday lenders usually look for people who are high in debt or have a history of using high-risk lenders. Some consumers prefer to take recourse to payday advances rather than face costly fees on bounced checks and penalties on late payments. How do you apply and qualify for a quick payday loan? What are the possible dangers and pitfalls of getting into online payday loan offers?
Quick Payday Loans

The payday loan applicant is required to have a job or receive a regular income and make at least $1000 per month. The job and the paycheck act as a collateral for this kind of loan. A typical payday loan requires a borrower to write a personal check to the lender for the amount he needs to borrow, plus a fee specified by the lender. This post dated check works as a guarantee for the lender. If the borrower extends the loan beyond an agreed-upon deadline, he or she pays a fee for the extension.
The cost of payday loans varies from company to company. The term for a payday loan could range from 1 week to 4 weeks and could coincide with the day you receive your next paycheck. Some lenders charge a flat fee for a payday loan regardless of the term. Sometimes they give the borrower an option to extend the loan to the next payday and the fees are subsequently increased.
Payday Loan Application

There is no dearth of payday loan lenders who process applications online too. Such loans are also referred to as cash advance loans or check advance loans. Ensure that you read the fine print before applying for a payday loan. Check out the payday loan lender before paying up the fees upfront.
Online Payday Loan

For some people, payday loan is what keeps them going. However it cannot be ignored that interest rates are very high. It is sometimes so expensive that it can lead to further debt. The cost of a payday loan is deceiving. You write a personal check for $115 to borrow $100 for up to 14 days. The check cashier or payday lender agrees to hold the check until your next payday. At that time, depending on the particular plan, the lender deposits the check or you redeem the check by paying the $115 in cash.
Alternatively, you can rollover the check by paying a fee to extend the loan for another two weeks. In this example, the cost of the initial loan is a $15 finance charge for 2 weeks. If you roll-over the loan three times, the finance charge would climb to $60 to borrow $100. This $15 fee actually represents an annualized percentage rate (APR) of 391%. The average APR for payday lenders is around 390%, with some charging as much as 1,000% or more, especially in cases of 'rollovers'.
There is no dearth of online payday loan lenders who are eager for your business. You can apply for a payday loan online and get receive a payday advance as soon as your personal information is verified. Rarely is a credit check required for a payday advance. The payday advance is deposited directly into your checking or savings account. Compare rates across online payday loan lenders before you plump in for a loan. Interest rates can go as high as 30% for online payday loans. It is easy to fall into a debt trap since some payday loan lenders will allow you to extend your loan by merely paying the interest when you receive your next paycheck.
Payday Advance

The CFA (Consumer Federation of America) is warning consumers against excessive use of Internet payday loans. Consumers would do well by making realistic budgets and sticking to it. Putting aside the amount taken on a typical payday loan could be a blessing in disguise when you are faced with a financial crisis. Consider other credit options before embarking on payday loan advances. An overdraft protection can buffer some credit problems. In the event of taking a payday loan, ensure that it is limited to an amount that can be paid out of the next paycheck.
Top of the Page: Quick Payday Loan
More on Loans and Investments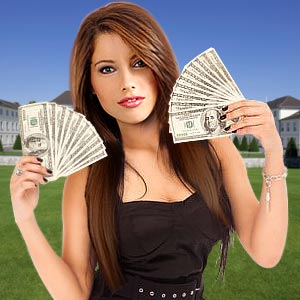 Managing Money
- Astute money management calls for understanding money market ...
Money Saving Tips
- Become money wise ...
Budgeting
- Prudent tips to making ends meet and saving too ...
Loan
- Check out different types of loans and credit options ...
Offshore Banking
- Tax havens for depositers ...
Prepaid credit card
- Credit card with strings attached ...
Secured Credit Card
- Credit against your collateral ...
Bad Debt Credit Card
- Rebuild credit ...
Automated Teller Machine ATM
- Any time money...
Investing
- There are many investing styles. It's a matter of choosing a strong ...
Grants for Women Starting a Business
- Initial setup assistance ...
Credit Card Reward Program
- What do credit card rewards programs mean? ...
Prepaid Travel Money Card
- Travel payments made simple ...
Travel Reward Credit Card
- Accumulate flying miles ...
Credit Card Debt Elimination
- Emerge from the financial whirlpool of ever-increasing debt ...
Consumer Debt Counseling
- Go on a cash diet ...
Repair Credit Score
- The Magic figure ...
Voluntary Repossession
-When unable to repay ...
Retirement Planning Calculator
- Plant the seed to enjoy the shade ...
Personal Debt Consolidation Loan
- Buried under an avalanche of payments ...
Identity Theft Prevention
- Protect your identity against misuse ...
Money Transfer Overseas
- Money across countries ...
Online Insurance Quote Guide
- Understand Insurance and how it can benefit you ...
Self Employed Health Plans
- Opt for best cover ...
Top of the Page: Quick Payday Loan