In the quest for a new birth control measure that is safe and effective yet discreet, the birth control patch was introduced a few years ago. The FDA announced approval of this new birth control measure in 2001. This reversible contraceptive works in much the same way as birth control pills but it is a small patch that has to be worn on the body. Ortho Evra - the brand of birth control patches available today has a success rate of 99% when used correctly. But these patches do not protect against sexually transmitted diseases.
The hormonal birth control patch is a beige colored smooth and thin patch that is directly pasted on to your skin - either on the abdomen, upper torso, upper arm or buttocks. This patch is never applied on the breast. A new birth control patch is worn once a week for 3 consecutive weeks. The woman goes without a patch for a week when she gets her menstrual period.
The patches deliver a steady flow of hormones, estrogen and progesterone into the bloodstream through the skin. These synthetic hormones prevent pregnancy by making the cervical mucus inhospitable to sperm and also ensuring that eggs are not released. The patch also alters the endometrium composition to prevent implantation.

The hormones in the patch are the same ones as in birth control pills. These hormones ensure that the eggs do not leave the ovary and thus prevent pregnancy. They also help in making the cervical mucus thicker thereby preventing the sperms from reaching the eggs.
Birth control patches are created to adhere to the skin even in warm, humid and wet conditions. So it is possible to swim, bathe, exercise and shower with the patch. The patch must not be loosened or pried off before the week is out. It may fall off if it was applied incorrectly. In that case it must be reapplied by pressing it down firmly. It is essential not to trim or alter the patch since it may alter the levels of hormones it delivers. The patch must not be applied on skin that is cut or bruised. It must be placed on the skin after cleaning and drying the area. Wear it on an area that is not rubbed by tight clothing.
As is the case with birth control pills, contraceptive patches are to be avoided by women who have blood clots or a history of heart attacks or breast or uterine cancer. Those suffering from high blood pressure or diabetes and liver disease are also not advised to use the contraceptive patch. This patch may be less effective on women who weigh more than 195 pounds. A few medications like certain HIV medicines, anti-seizure medicines, etc make the patch less effective. Pregnant women, women who develop migraine with use of patch, women who smoke and are over 35 years of age and suffer from conditions like lupus should avoid using the patch.
These birth control patches offer health benefits like the convenience to avoid pregnancy or fall pregnant by just using or removing the patch. It is said to provide protection against:
Thinning of bones


Acne


Anemia


Breast growth that is not cancer


Endometrial cancer


Cysts in breast and ovaries


Heavy/irregular periods


Pelvic inflammatory disease


Ectopic pregnancy


Severe menstrual cramps


Premenstrual syndrome


Normally women start using the patch within the first five days, (i.e. on the fifth day morning) after the start of periods. If a woman uses the patch after 5 days of menstrual periods, then protection begins only after 7 days from the day of usage.
Women who have had a vaginal delivery can begin using the patch after three weeks from the date of delivery. If the woman is nursing the baby, she can wait for six weeks post delivery to use the patch. Patches can be used right after a miscarriage or abortion. The patch works effectively only when applied on time and replaced in time. In case of untimely application; substitute with alternate birth control measures until such time the patch can become effective and functional.
The birth control patch costs about $15 to $35 a month. Since it has to be changed once a week, it is easier to remember than the pill. The side effects of hormonal patches range from nausea and headache to menstrual cramps and breast tenderness. There might be slight irritation at the application site. Manufacturers suggest that the contraceptive patch can be worn at a different spot each week to minimize the problem. It has been observed that overweight women found the patch less effective.
---
Top of the Page: Birth Control Patch
More on Contraception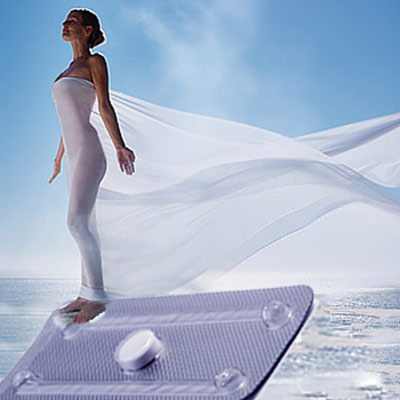 Women Health Tips
- Women Health - key to understanding your health ...
Contraception Guide
- Best method - you have to choose one that suits you ...
Birth Control Patch
- is a contraceptive that is discreet and effective ...
Birth Control Shot
- has a success rate of nearly 99.7 % and is effective for 12 weeks ...
Birth Control Pill
- is oral contraceptives that inhibit the body's fertility level through chemical means ...
Emergency Contraception
- is used when you suspect a contraceptive failure or after unprotected intercourse ...
Tubal Ligation Reversal
Opt to have children again ...
Birth Control IUD
- How effective are IUDs? ...
Birth Control Rings
- Find out more on Birth Control Rings ...
Female Condom
- Information on one of the latest contraceptive devices ...
Top of the Page: Birth Control Patch