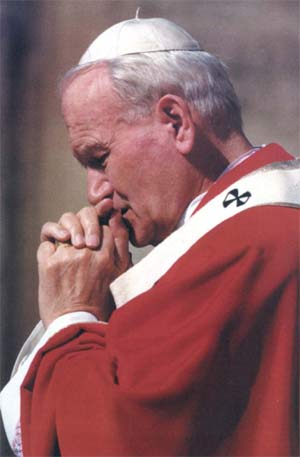 Legacy of Pope John Paul II

Pope John Paul II was the most popular, most travelled (he had travelled over 100 countries and more than a million miles around the world) and in the views of some - the Man of the Century.

CNN in its obituary said - "Supporters and critics alike agree on the immense significance of his 26-year papacy.
During that period he played a key role in the fall of communism, brought the Catholic message to an unprecedented number of people around the world, and endeared himself to billions with his warmth, charisma, courage and integrity. "
His staunch views on abortion, cloning, euthanasia and destroying a human life to save another were best explained in his best-selling book 'Crossing the Threshold of Hope'. Even in his own personal suffering, he wanted the world to realize that suffering was at the heart of salvation - a message, his Lord has so eloquently preached. The dignity of Life is sacrosanct in the view of Pope John Paul which is exemplified by his views on Terri Schiavo. He was unflinching in his commitment to the cause he dearly held. Dissent was not an option in the meetings he presided over. Even his worst detractors lauded his commitment and his indomitable spirit.
Pope John Paul's 26 years of rule over the Roman Catholic Church can best be summarized by the text of the US President George W.Bush when he presented the Presidential Medal of Freedom to Pope John Paul II at the Vatican:

"A devoted servant of God, His Holiness Pope John Paul II has championed the cause of the poor, the weak, the hungry, and the outcast. He has defended the unique dignity of every life, and the goodness of all life.

Through his faith and moral conviction, he has given courage to others to be not afraid in overcoming injustice and oppression. His principled stand for peace and freedom has inspired millions and helped to topple communism and tyranny.

The United States honors this son of Poland who became the Bishop of Rome and a hero of our time."